Das innere Monster
Als ich die Idee zu Monster Fitness hatte, war für mich direkt ein Punkt klar:
Das Letzte was ich wollte, war eine weitere Plattform zu schaffen wie: "In 6 Wochen zur Traumfigur – hier ist dein Ernährungsplan, dein Trainingsplan, hier ein paar Videos, in denen du angeschrien wirst und hier noch ein paar Bilder von einem Fitnessmodel mit Sixpack, das dich motivieren soll."
Das Ziel ist es, die Herausforderung "Abnehmen" und die dafür nötige Selbstmotivation bis ins Detail zu entschlüsseln und dann so effektiv und einfach wie möglich zu erklären.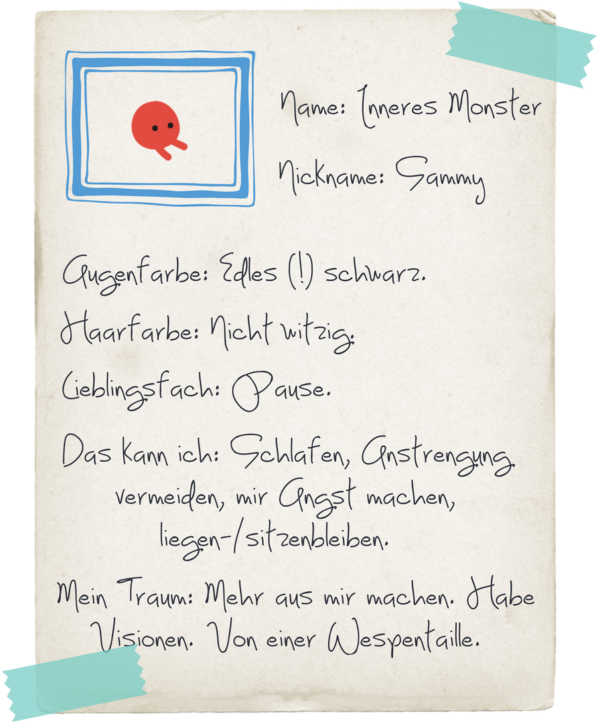 So weit, so simpel.
Input hatte ich anhand meines eigenen Wissens und der ziemlich Umfangreichen Studienrecherchen genug.
Wie du wahrscheinlich gemerkt hast, habe ich mich gegen Fitnessmodel-Fotos mit Sixpack und Bizeps auf jeder Seite entschieden.
Irgendwie sympathisch sollte es werden.
Vielleicht mit etwas Humor. Nicht trocken.
Lebendig.
Klar: Kleine, niedliche Monster.
Was genau ist also nun dein inneres Monster?
Im Prinzip ist es einfach eine Metapher für die Programme in unserem Gehirn.
Studien hinter Monster Fitness
Wie funktioniert Motivation? Also: Wie genau funktioniert Motivation? Welche biochemischen Prozesse laufen ab, was erzeugt das Gefühl der Motivation, wodurch genau wird es ausgelöst und was müssen wir dafür tun? Und auf der anderen Seite: Was zählt im Bereich der Ernährungswissenschaften, wenn man möglichst zielführend seine Wunschfigur erreichen möchte. Es gibt mehr Trends und Ratgeber, als Tropfen im Ozean, da gilt es mehr denn je: Unbedingt prüfen, ob das Wissen auch wissenschaftlich gestützt werden kann. Doch schon steht man vor der nächsten Herausforderung: Täglich erscheinen hunderte neue Studien - welche sind relevant? Es zählen vor allem Metastudien und solche, die möglichst oft rezitiert wurden. Einen Anfang für die Basis der Artikel und Inhalte auf Monster Fitness findest du hier: Weit mehr als über 300 relevante Studien wurden für die einzelnen Disziplinen genutzt. Da es sich hier größtenteils um die Hauptgebiete Motivation und Ernährung dreht, wurden die Studien der Einfachheit halber in "Motivation" und "Ernährung" eingeteilt.
Studien zum Bereich Motivation
TEIXEIRA, Pedro J., et al. Motivation, self-determination, and long-term weight control. International Journal of Behavioral Nutrition and Physical Activity, 2012, 9. Jg., Nr. 1, S. 22.
DAVIS, Jon F., et al. Leptin regulates energy balance and motivation through action at distinct neural circuits. Biological psychiatry, 2011, 69. Jg., Nr. 7, S. 668-674.
WEST, Delia Smith, et al. Motivational interviewing improves weight loss in women with type 2 diabetes. Diabetes care, 2007, 30. Jg., Nr. 5, S. 1081-1087.
TEIXEIRA, Pedro J., et al. Self-regulation, motivation, and psychosocial factors in weight management. Journal of Obesity, 2012, 2012. Jg.
ELFHAG, Kristina; RÖSSNER, Stephan. Who succeeds in maintaining weight loss? A conceptual review of factors associated with weight loss maintenance and weight regain. Obesity reviews, 2005, 6. Jg., Nr. 1, S. 67-85.
SVETKEY, Laura P., et al. Comparison of strategies for sustaining weight loss: the weight loss maintenance randomized controlled trial. Jama, 2008, 299. Jg., Nr. 10, S. 1139-1148.
WING, Rena R., et al. A self-regulation program for maintenance of weight loss. New England Journal of Medicine, 2006, 355. Jg., Nr. 15, S. 1563-1571.
SUMITHRAN, Priya, et al. Long-term persistence of hormonal adaptations to weight loss. New England Journal of Medicine, 2011, 365. Jg., Nr. 17, S. 1597-1604.
MORTON, G. J., et al. Central nervous system control of food intake and body weight. Nature, 2006, 443. Jg., Nr. 7109, S. 289.
PATRICK, Kevin, et al. A text message–based intervention for weight loss: randomized controlled trial. Journal of medical Internet research, 2009, 11. Jg., Nr. 1.
JELALIAN, Elissa, et al. Predictors of attrition and weight loss in an adolescent weight control program. Obesity, 2008, 16. Jg., Nr. 6, S. 1318-1323.
KELLEY, Ann E., et al. Corticostriatal-hypothalamic circuitry and food motivation: integration of energy, action and reward. Physiology & behavior, 2005, 86. Jg., Nr. 5, S. 773-795.
BRUG, Johannes. Determinants of healthy eating: motivation, abilities and environmental opportunities. Family practice, 2008, 25. Jg., Nr. suppl_1, S. i50-i55.
MATA, Jutta, et al. Motivational "spill-over" during weight control: Increased self-determination and exercise intrinsic motivation predict eating self-regulation. 2011.
PI-SUNYER, F. Xavier. The impact of weight gain on motivation, compliance, and metabolic control in patients with type 2 diabetes mellitus. Postgraduate medicine, 2009, 121. Jg., Nr. 5, S. 94-107.
SHARMA, S.; FERNANDES, M. F.; FULTON, S. Adaptations in brain reward circuitry underlie palatable food cravings and anxiety induced by high-fat diet withdrawal. International journal of obesity, 2013, 37. Jg., Nr. 9, S. 1183.
MADY, Mackenzie A., et al. The ketogenic diet: adolescents can do it, too. Epilepsia, 2003, 44. Jg., Nr. 6, S. 847-851.
LA FLEUR, S. E., et al. A reciprocal interaction between food-motivated behavior and diet-induced obesity. International journal of obesity, 2007, 31. Jg., Nr. 8, S. 1286.
WILLIAMS, Geoffrey C., et al. Self-determination, smoking, diet and health. Health education research, 2002, 17. Jg., Nr. 5, S. 512-521.
NARAYANASWAMI, V., et al. Diet-induced obesity: dopamine transporter function, impulsivity and motivation. International Journal of Obesity, 2013, 37. Jg., Nr. 8, S. 1095.
ASHIDA, Sato; WILKINSON, Anna V.; KOEHLY, Laura M. Social influence and motivation to change health behaviors among Mexican-origin adults: implications for diet and physical activity. American Journal of Health Promotion, 2012, 26. Jg., Nr. 3, S. 176-179.
TEIXEIRA, P. J., et al. Pretreatment predictors of attrition and successful weight management in women. International journal of obesity, 2004, 28. Jg., Nr. 9, S. 1124.
VALLERAND, Robert J.; LOSIER, Gaétan F. An integrative analysis of intrinsic and extrinsic motivation in sport. Journal of applied sport psychology, 1999, 11. Jg., Nr. 1, S. 142-169.
CHARBONNEAU, Danielle; BARLING, Julian; KELLOWAY, E. Kevin. Transformational leadership and sports performance: The mediating role of intrinsic motivation. Journal of applied social psychology, 2001, 31. Jg., Nr. 7, S. 1521-1534.
JEFFERY, Robert W., et al. Physical activity and weight loss: does prescribing higher physical activity goals improve outcome?. The American journal of clinical nutrition, 2003, 78. Jg., Nr. 4, S. 684-689.
PLOTNIKOFF, Ronald C.; HIGGINBOTHAM, N. Protection Motivation Theory and exercise behaviour change for the prevention of heart disease in a high-risk, Australian representative community sample of adults. Psychology, health & medicine, 2002, 7. Jg., Nr. 1, S. 87-98.
ALEXANDRIS, Konstantinos; TSORBATZOUDIS, Charalambos; GROUIOS, George. Perceived constraints on recreational sport participation: Investigating their relationship with intrinsic motivation, extrinsic motivation and amotivation. Journal of Leisure Research, 2002, 34. Jg., Nr. 3, S. 233-252.
KILPATRICK, Marcus; HEBERT, Edward; BARTHOLOMEW, John. College students' motivation for physical activity: differentiating men's and women's motives for sport participation and exercise. Journal of American college health, 2005, 54. Jg., Nr. 2, S. 87-94.
TRAIL, Galen T.; JAMES, Jeffrey D. The motivation scale for sport consumption: Assessment of the scale's psychometric properties. Journal of sport behavior, 2001, 24. Jg., Nr. 1, S. 108.
FREDRICKS, Jennifer A.; ECCLES, Jacquelynne S. Family socialization, gender, and sport motivation and involvement. Journal of Sport and Exercise Psychology, 2005, 27. Jg., Nr. 1, S. 3-31.
SEO, Won Jae; GREEN, B. Christine. Development of the motivation scale for sport online consumption. Journal of Sport Management, 2008, 22. Jg., Nr. 1, S. 82-109.
GILLET, Nicolas, et al. Influence of coaches' autonomy support on athletes' motivation and sport performance: A test of the hierarchical model of intrinsic and extrinsic motivation. Psychology of sport and exercise, 2010, 11. Jg., Nr. 2, S. 155-161.
VLACHOPOULOS, Symeon P.; KARAGEORGHIS, Costas I.; TERRY, Peter C. Motivation profiles in sport: A self-determination theory perspective. Research Quarterly for Exercise and Sport, 2000, 71. Jg., Nr. 4, S. 387-397.
HODGE, Ken; LONSDALE, Chris. Prosocial and antisocial behavior in sport: The role of coaching style, autonomous vs. controlled motivation, and moral disengagement. Journal of sport and exercise psychology, 2011, 33. Jg., Nr. 4, S. 527-547.
FREDERICK-RECASCINO, Christina M.; SCHUSTER-SMITH, Hana. Competition and intrinsic motivation in physical activity: A comparison of two groups. Journal of Sport Behavior, 2003, 26. Jg., Nr. 3, S. 240.
SPRAY, Christopher M., et al. Understanding motivation in sport: An experimental test of achievement goal and self determination theories. European journal of sport science, 2006, 6. Jg., Nr. 01, S. 43-51.
PAPAIOANNOU, Athanasios, et al. Causal relationships of sport and exercise involvement with goal orientations, perceived competence and intrinsic motivation in physical education: A longitudinal study. Journal of Sports Sciences, 2006, 24. Jg., Nr. 4, S. 367-382.
BLANCHARD, Céline M., et al. Reciprocal relationships between contextual and situational motivation in a sport setting. Psychology of Sport and Exercise, 2007, 8. Jg., Nr. 5, S. 854-873.
LIPPKE, Sonia; WIEDEMANN, Amelie U. Sozial-kognitive Theorien und Modelle zur Beschreibung und Veränderung von Sport und körperlicher Bewegung-ein Überblick. Zeitschrift für Sportpsychologie, 2007, 14. Jg., Nr. 4, S. 139-148.
RYAN, Richard M.; DECI, Edward L. Self-determination theory and the facilitation of intrinsic motivation, social development, and well-being. American psychologist, 2000, 55. Jg., Nr. 1, S. 68.
LOCKE, Edwin A.; LATHAM, Gary P. Building a practically useful theory of goal setting and task motivation: A 35-year odyssey. American psychologist, 2002, 57. Jg., Nr. 9, S. 705.
YOON, Yooshik; UYSAL, Muzaffer. An examination of the effects of motivation and satisfaction on destination loyalty: a structural model. Tourism management, 2005, 26. Jg., Nr. 1, S. 45-56.
WIGFIELD, Allan; ECCLES, Jacquelynne S. Expectancy–value theory of achievement motivation. Contemporary educational psychology, 2000, 25. Jg., Nr. 1, S. 68-81.
FREY, Bruno S.; JEGEN, Reto. Motivation crowding theory. Journal of economic surveys, 2001, 15. Jg., Nr. 5, S. 589-611.
OSTERLOH, Margit; FREY, Bruno S. Motivation, knowledge transfer, and organizational forms. Organization science, 2000, 11. Jg., Nr. 5, S. 538-550.
GARRIS, Rosemary; AHLERS, Robert; DRISKELL, James E. Games, motivation, and learning: A research and practice model. Simulation & gaming, 2002, 33. Jg., Nr. 4, S. 441-467.
FREDRICKS, Jennifer A.; ECCLES, Jacquelynne S. Family socialization, gender, and sport motivation and involvement. Journal of Sport and Exercise Psychology, 2005, 27. Jg., Nr. 1, S. 3-31.
WISE, Roy A. Dopamine, learning and motivation. Nature reviews neuroscience, 2004, 5. Jg., Nr. 6, S. 483.
ZIMMERMAN, Barry J. Investigating self-regulation and motivation: Historical background, methodological developments, and future prospects. American educational research journal, 2008, 45. Jg., Nr. 1, S. 166-183.
DECI, Edward L.; RYAN, Richard M. Facilitating optimal motivation and psychological well-being across life's domains. Canadian Psychology/Psychologie canadienne, 2008, 49. Jg., Nr. 1, S. 14.
BENABOU, Roland; TIROLE, Jean. Intrinsic and extrinsic motivation. The review of economic studies, 2003, 70. Jg., Nr. 3, S. 489-520.
COLQUITT, Jason A.; LEPINE, Jeffrey A.; NOE, Raymond A. Toward an integrative theory of training motivation: a meta-analytic path analysis of 20 years of research. Journal of applied psychology, 2000, 85. Jg., Nr. 5, S. 678.
REEVE, Johnmarshall. Understanding motivation and emotion. John Wiley & Sons, 2014.
BRADLEY, Margaret M., et al. Emotion and motivation I: defensive and appetitive reactions in picture processing. Emotion, 2001, 1. Jg., Nr. 3, S. 276.
CARDINAL, Rudolf N., et al. Emotion and motivation: the role of the amygdala, ventral striatum, and prefrontal cortex. Neuroscience & Biobehavioral Reviews, 2002, 26. Jg., Nr. 3, S. 321-352.
ELLIOT, Andrew J.; DWECK, Carol S. (Hg.). Handbook of competence and motivation. Guilford Publications, 2013.
Studien zum Bereich Motivation